SRC GGH0303B Heckler and Koch USP Replica Gas powered Airsoft pistol
SRC GGH0303B Heckler and Koch USP Replica Gas powered Airsoft pistol
SRC GGH0303B Heckler and Koch USP Replica Gas powered Airsoft pistol
Product Description

This is an excellent little pistol in the style of a full scale Heckler & Koch USP (universal self-loading pistol") used by the Bundeswehr (German armed forces)
This is a Airsoft pistol that comes from the src-stti factory. (It says y&p on the box but it is src)
Made of strong ABS plastic in perl blue with a 20 round magazine.
surprisingly accurate with good range. it has a fixed slide so you have a Blow Back action but it makes it more economical to run.
it also comes with a small pack of pellets.
size - 225 mm long
mag cap - 20 rounds
hop up - yes
fps 320
single shot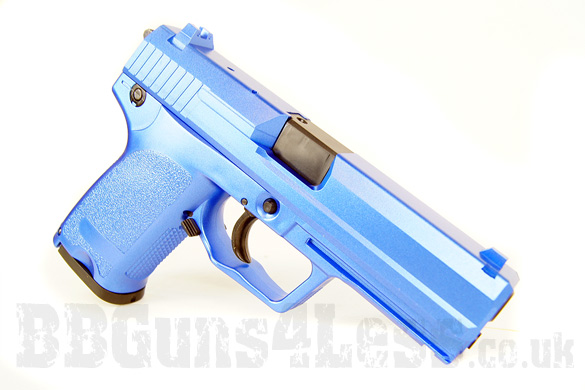 but it does not come with any bb gun airsoft gas but you can buy that on the site
This gun uses the big aerosol type cans and not the little gas capsules we like kick ass brand the best.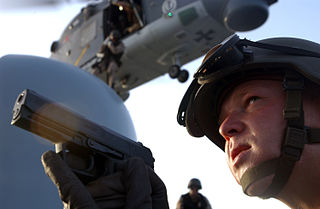 The H&K USP.45 A Trademark gun of many Forces around the world, An iconic weapon in Films such as Iron man, Hitman and Dawn of the Dead. Now you can own your own Version and this wont let you down. Being a non-blowback airsoft gun this give it the edge over blow back pistols, With every trigger pull you know you are not wasteing gas on looks instead its being used for the guns Fps and range. Our shop test shows that it fires at 300fps to 315fps and accurate up to 30 meters for a human sized target using .20g bb's, We also fired 0.12g bb's and got a whopping 400fps . The gun actully holds 25 rounds and can fire two mags before re-filling the gas mag which by the way is full metal. The grip is very nice however not great for people with small hands as the trigger is stiff however you get the lighter trigger pull if the gun is cocked.
the safty can be a little annoying (having to pull down the hammer then engaging the catch) this locks the hammer in place and will not allow it to move forward. The gun is weighted and feels like there is actully something in your hands and not just a lump of plastic, this is a pistol no skirmisher or collecter should be without. looks really good, feels great and fires great.
On additionl feature of this gun is the groves on the lower reciver in fron of the trigger that can be used to attach a lazer or a flashlight.
Product Reviews
Write Review
Good gun

Posted by Fred Pearce on 13th Jun 2016

Plenty of power for a small gun, bit fiddly to load and holds 22 pellets not 26 as stated but not a problem. Accuracy good even over some distance and makes enough noise to scare the squirrels off the bird feeder!

Would have given 5 stars but loading magazine is tedious

Posted by Unknown on 9th Nov 2015

Feels right good weight well made very accurate not a toy you can do serious damage with this pistol

great for the price.

Posted by bri on 1st Dec 2013

bought this gun. received it Friday. used it Friday. it was better than I expected. I would recommend this gun to anyone. it is powerful.

Ideal Secondary Weapon - Powerful - Good Value for Money.

Posted by D. Gardner on 21st Nov 2013

I have experience in handling firearms as I'm an Armed Response Police Officer. This is my 3rd Gas powered hand gun and I have many Airsoft guns of all descriptions in my collection. Therefore I feel adequately qualified to make comment or pass judgement.

On first impressions the pistol looks just like the real thing, the German H&K USP .45 only in a metallic electric blue rather than gun metal grey and black. Although made of ABS plastic and not heavy, it feels very comfortable in the hand and firm to the touch.

Preparation:-
Filling the gas chamber is easy providing you follow the simple steps and guidelines. Doing it right I was able to fire off nearly 3 mags of BB's, (average of 57 in 3 tests) before re-filling was needed. Bare this in mind; it could help you out in a sticky situation when skirmishing. Weather conditions have a lot to do with gas guns and their performance. They work better in hot weather.
Next point is loading the magazine with BB's. I found loading difficult and quite fiddly to be honest. There is no lock position to hold the spring clip down whilst you load each BB singularly. I tried using a rod feeder with plunger as well as 2 different speed loaders to no avail. Frankly, it was impossible and needs 3 hands. You just have to persevere by inserting each BB one by one to the grand total of 22. The manufacture states a 26 shot capacity, lies! It will take another BB yes but, that will cause the spring to jam and double load BB's which will cause damage to your gun. DO NOT LOAD MORE THAN 22 BB'S! What are needed are more mags. No offence but there is another site a little more expensive, but they sell replacement mags for £14.99 each plus p&p

Performance:-
Out of the box with no adjustment to the hop-up it responds well when fired with a slight kick mimicking it in real life. Using .20g BB's I found it accurate to 4 meters grouping a full magazine of 22 no larger than the size of a French Golden Delicious Apple. At the same distance I was demolishing beer cans ripping them to shreds but at 6 meters, grouping no larger than the size of a Honeydew melon; I was ripping that to shreds too.

Ammunition:-
Using .12g BB's gain a lot more distance and a faster FPS score but you sacrifice your accuracy. For close encounters while skirmishing I would suggest using .20g when distance is not important say, 12 to 18 meters max depending on the weather. If you do decide to use .20g BB's then there is no need to alter the factory setting for the hop-up. If you use .12g then setting the hop-up like on most Airsoft guns, it will take you time, a lot of time unless you are lucky in finding the correct set up right away.

NB. Even though they look really good, adding a torch or laser to the underside will compromise its handling resulting in poor accuracy and performance. They will also compromise its use in a holster unless you have one big enough to take it.

In conclusion;
This pistol in my opinion is worth every penny and performs somewhat better than my Desert Eagle costing me a little over £150.00 putting it to shame. It looks good, feels good, shoots good and the price is good too. Don't take my word for it, try it yourself. I have given it only 4 stars deducting one for the poor loading of BB's. If the mag design was better facilitating loading of said BB's, then I would have awarded it 5 stars.


Highly recommended

Posted by Sam G on 12th Oct 2013

Where to begin....
I ordered this gun expecting a semi decent gas pistol for 30 quid. Upon opening the somewhat cheap looking box I was blown away at how good the gun looks. It is metalic blue and actually looks and feels like metal. It has a nice weight to it and feels great.

Performance: The gun loads easily and is VERY powerful when fired. It is also extremely accurate at 15 feet straight out the box with no adjustments on Hop up needed. It shoots over 300fps easily and punches through high density cardboard boxes leaving awesome exit holes on the opposit side of the box.

If your looking for a gas pistol under 50 pounds this is the one you want.

You dont want to get hit by this. I use 0.20's and they are very intimidating.

Great gun

Not recommended for kids though as tje trigger is ever so slightly stiff.


God I love this gun,

Posted by Louis Hale on 27th Sep 2013

First off, I am a subparish airsoft player, My AEG's are JG. nothing special but eh, I came on here to show it to a friend so he could get one from a market stall, or from poland, I am a Huge supporter of this gun, I have had three of them, and I still use on of these as a backup, these are Fantastic guns! you know a guns great when you buy two more afterwards, It comes with a tiny allen key for adjusting the hop up, which is easy to setup and gives it a hugely impressive range, beating my jg sig 552 (not from here, imported for cheaper from poland) and thats over 3 times more expensive! I thoroughly recommend this gun to all who are looking for a cheaper pistol that holds its own, in normal weather I was hitting around 330 or so, however at one point during the summer it was hitting 365, 15 FPS higher than is allowed on the site I go to, Regardless I highly recommend this gun.

Brilliant

Posted by Unknown on 6th Sep 2013

Brilliant gun love it but please can you get some spare mags for it.

Skirmish Use

Posted by Dominic Mosses on 3rd Sep 2013

I use this on my local site as my back up and as my main in CQB. I have to say this is EXCELLENT value for money. Myself and other players who use much more expencive pistols all agree that it actully out preforms the higher end products with both range and accuracy. Mine fires at 330 FPS and can hit targets first time every time. Very reliable. Only downside is the barrel is not threaded so no suppressor can be added. Love this so much I want another.

WOW

Posted by Unknown on 10th May 2013

This gun is one of the best replica gun ever. The feel of it and the power is just incredible. I will definetly give this gun a 9 out of 10.
Find Similar Products by Category