Cyma ZM51 bolt action sniper rifle with scope and bipod in blue
Product Description

ZM51 Cyma ZM51 bolt action sniper rifle with scope and bipod in blue. (not orange as in the photo)

This bbgun is an excellent cheap airsoft sniper rifle
we think this is going to be one of our top sellers due to its low price and its great power.
we searched around online on some sites in the usa and they are saying this gun is 415 fps
we are this first with the bbgun in the uk and you won't find it on any other sites as its exclusive to bbguns4less

it has a great feel and its got some weight to it also it looks very stylish.
on the gun itself there are 2 rails one to attached the included electric red dot scope and the other to attach the bipod
the gun is a full scale model replica made of abs plastic

we recommend this gun if you want a great quality, powerful and good looking sniper rifle at a cheap price then this is the one.
Details
Name of gun: ZM51
Make of gun: cyma
Range: Accurate up to 50 meters
Good accuracy
Spring powered
bolt action
Single shot
Heavyweight
FPS: 310-315
Size: xx inches
ABS plastic
Magazine capacity xx bb pellets
Realistic bolt action
Safety catch
in the box
red dot scope
bipod
carry strap
speed loader
small pack of pellets
You should use 0.20g BB's with this bb gun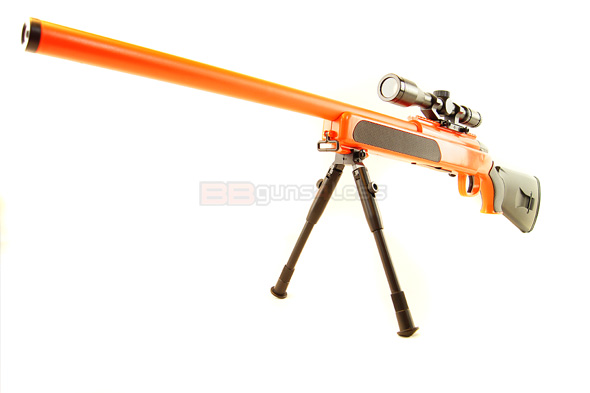 Product Videos
cyma zm51 bb gun airsoft review unboxing

Product Videos
Find Similar Products by Category
Customers also viewed