Double Eagle M85 G36 Replica Electric bb gun in blue
The M85 is a G36 style gun made by Double Eagle in blue .
its a full size 1:1 replica of this heckler & Koch G36 assault rifle used by the Metropolitan Police Service and the SAS
It is a high performance electric BB gun that can be used as a semi or fully automatic airsoft bb gun and comes with a with a full working safety switch.
It has good power at 225 fps and a range of around 45mt the electronic red dot gun sight makes the accuracy good.
The m85 bb gun is a 6mm calibre like all of the guns we sell so any bb pellets we sell will fit it but we recommend using 0.20 bb pellets with this gun as the hop up makes the 0.12 gram bend in flight.
It has a Transparent magazine (with replica shells) that holds around 30 rounds (the same as the real one) around 100 bb's come with this gun in the box
The stock folds and it comes with a mock silencer and it has lots of rails so you can attach lots of extras to it like the flash light ,foregrip and red dot scope it comes with.
other extras it comes with are a carry strap and some cheap safety glasses also there is a small pack of bb pellets in the box but they are low quality and we dont recommend using them with this gun.
also it Comes with a rechargeable battery pack and uk charger.
This is one of our all time best sellers at bbgunsuk and it is great value bb gun for the price.
This gun does not come with a laser sight as standard but we do sell a great cheap laser sight module here.
we also sell spare mags for this bb gun
we also sell this gun in green or orange
in the box
Safty glasses
Uk charger
Small bag of bbpellets
Red dot scope
Flashlight
Carry strap
Loading tube
Foregrip
Mock silencer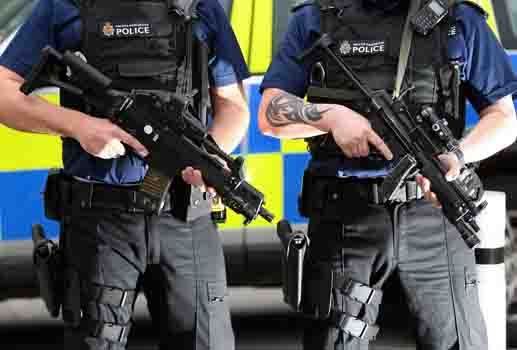 Members of the Greater Manchester Police armed response unit with the new issue Heckler & Coch G36 WIKI
below is a user review of the m85 bb gun

"Hey there, guys. Today I'm going to make a review of one of my BB guns. In
this case, we are going to review the Double Eagle M85 or better known as
the G36, and we're going to start with the actual gun itself.
As you can see, when it first arrives, it comes like this with the shoulder-length extender folded in. And when you first take it out, you notice this
thing is all hard plastic. There are not a lot of metal pieces except for
the front part of the sights and the few screws which are attached.
The extender extends like this. By pressing the button on the side here, it
can flop back and fall back to S&G position like this, or as pressed like
this, you have a proper rifle. It's all very stable. It doesn't wobble at
all, so there's nothing really to worry about. Despite this is just complete
plastic, it's very, very solid.
Let's come to the accessories that come along with these. As you can see,
we have two mags here because I bought another m85 mag from this store because these mags only
have the capacity of about 35 rounds. So I thought that's not enough so I
bought two but only one will be supplied. And you can connect the two mags together by putting one upside down, and they just click together, so you have a duel magazine. That's what I prefer to do, and it's a lot easier to change your mag then. the fake bullets on the mag look pretty cool. That's one thing I really, really
liked about it.
Things that come with the gun is, for example, the front grip. Still all
plastic, it has a little screw on the bottom which enables you to just
slide it onto one of the rails. So you can just undo the screw.
Now just figure it a little bit more. It will just completely slide on and
it's very stable as well, and it will stay on there forever if you don't
release it.
Another thing that comes with it is the silencer. Again, full plastic,
gives the gun a little bit more kind of a realistic view, but as you can see
here this is not high quality because this part will come off very easily
if you mistreat it or when you're little. So that means be careful with
this because it will break quite easily.
Then, you'll get your flashlights. It has three AAA batteries, is what's
required and it's quite bright. And the batteries are supplied with the very good light.
You can get also buy a laser pointer sight and attach and attached it to the side's of the gun, on the rail's
Or if you decide to take off the grip, you can also put
it down on that rail.
The battery pack is also quite long-lasting is your In this case,
you had a nickel-cadmium 7.2-volt battery pack that contains about si batteries.
The battery fits in the front part of the gun there's a little silver point that you press in and the whole part will slide off.
Also supplied with the gun standard-wise is a suppressor. Actually, I
prefer to keep this on the gun because it protects the barrel a little bit and it looks pretty cool. I prefer this suppressor to the silencer.
And one of the highlight accessories is your red dot sight. Take a look at this. This is still full plastic, but for a beginner, this is actually quite
good because I heard a lot of people say, oh this is rubbish. You can just throw it away. Actually, it's quite well for beginners if you're going to
start with this. You can see the red cross when you look in it, and You've got two light
intensity switches. You can switch it, and it gives it a little
less light.
You also get a little carry strap.
You also, of course, are supplied with a UK charger, And my advice to you guys is, use the battery completely
down, to a low level and then recharge it until it's completely
full. This will increase the lifetime of your battery quite a lot.
So in total, I think I have to say this is quite a good gun for beginners.
You've got a lot of accessories with it, and despite
that, it's all plastic, it is still very stable for a gun. I would recommend it for people who are starting to decide to play with BBs. And that's from me so far. Thank you very much."
SHIPPING Delivery Prices start from just £2.50 with free delivery on orders over £50 To the uk mainland *.
Tip - The easiest way to check the shipping cost for what you want to buy is put all of the stuff you want in to your basket. Then in your basket under the sub total there is a link for "Estimate Shipping & Tax" click this and fill in the details and it will tell you the shipping cost and if you qualify for free shipping
Free Shipping
Free shipping on orders over £50 To UK Mainland (excluding some parts of scotland)
Free shipping on orders over £100 To Northern Ireland & the Republic of ireland, Scottish highlands & islands, and I.O.M
Sorry we do not offer free shipping to the Channel Islands
Free shipping is a 5 working day service* (if you order Monday you get it the next Monday)
Delivery price
(Mainland UK)
Royal Mail (depending on weight) (2 Days Delivery*) From £2.50
Economy (post as much as you want) (2 to 4 Days Delivery*) £4.75 Flat Rate
Express shipping (post as much as you want) (1 to 2 Days Delivery*) £5.95 Flat Rate

*Working days (Saturday and Sunday are classed as non working days)

we can arrange a Saturday delivery on request but costs £20 and you will need to call us to pay the balance after making an order.
Delivery price (Ireland, Scottish Highlands & Islands)
Northern Ireland From £ 5.95
Highlands and islands From £5.95
I.O.M From £5.95
Republic of Ireland £6.95 (Flat Rate how ever big or small your order is)
Channel Islands £ 7.95 (Flat Rate how ever big or small your order is)

Delivery price (International Tracked)
(Flat Rate how ever big or small your order is)
Republic of Ireland (IRL)---- £6.95 Price Drop WAS £16
Belgium (BE)--------------- £7.95 Price Drop WAS £15
Netherlands (NL)---------- £6.95 Price Drop WAS £15
Germany (DE)-------------- £6.95 Price Drop WAS £25
Luxembourg (LUX)--------- £9.95 - NEW
France (FR)----------------- £9.95 Price Drop WAS £25
Austria (AT)---------------- £11.95 - NEW
Greece (GR)---------------- £12.95 - NEW

Sweden (SE)-------------- £14.95 - NEW

Denmark (DK)------------ £9.95 Price Drop WAS £15
Finland (FI)--------------- £15.95 - NEW
Italy (IT)------------------ £11.95 Price Drop WAS £16
Portugal (PT)------------- £11.95 Price Drop WAS £18

Poland (PL)----------------- £9.95 - NEW
Spain (ES)----------------- £12.95 Price Drop WAS £23
Sweden (SE)-------------- £11.95 Price Drop WAS £15

Slovakia (SK)------------- £11.95 - NEW
Slovenia (SL) ------------ £11.95 - NEW
Croatia (HR)-------------- £16.95 - NEW
Czech Republic (CZ)----- £10.95 - NEW
Hungary (HU)------------ £10.95 - NEW
Bulgaria (BG)------------ £14.95 - NEW
Romania (RO)------------ £13.95 - NEW
Switzerland (CH)--------- £12.95 - NEW
Turkey (TR)--------------- £17.95 NEW
Channel Islands ----------£ 7.95 Price Drop WAS £15
Why buy from us

Welcome to bbgunsuk the original and oldest bb guns shop in the uk.
we offer an awesome range of bb guns for beginners to pros if you need any advice just give us a call and out sales team are ready to help.
we also have lots of bb pellets & targets ect. so whatever your need we have just about got the lot!
Call Us On:01708 853232.
4 Reviews
Thank you it is great

Definitely the best BB gun I own with a very good price for the quality and size

Great item well made good price

We bought this gun for a Film Prop, so basically it will not be used for its intended purpose. However it is exactly the style we needed for the film.