Well MB01 Warrior Mk3 L96 Replica Sniper Rifle
Well MB01 Warrior Mk3 L96 Replica Sniper Rifle
Product Description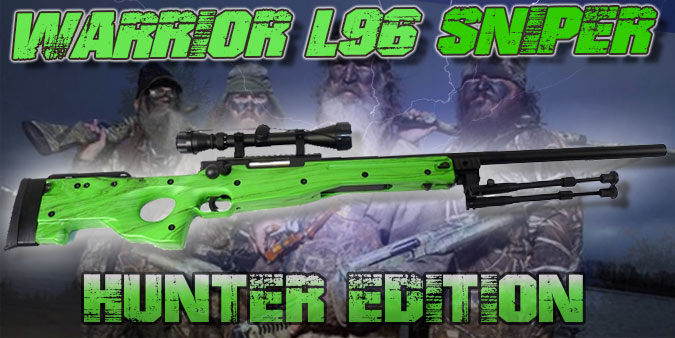 It's a clone of the Maruzen L96. Test model chrono'd at 450fps with the velocity reducer removed. VERY accurate to over 50 metres.

The velocity reducer is installed as standard and drops the velocity to approx 290+ FPS. It is easily removed, however the rifle must be partially disassembled for you to gain access to the piston nozzle.

Please also note that even at 290FPS, you must use 0.30g BB's or heavier for ultimate accuracy, unless you change the hop-rubber for a softer composition.
| | |
| --- | --- |
| Approx FPS | 300+ |
| Barrel Length | 350mm |
| Shooting Mode | One Shot Per Cock |
| Hop Up | Adjustable |
| Gun Type | Springer |
| Manufacturer | WELL |
| Weight (Kg) | 5.5000 |
User review of the Warrior L96 (well MB01)
"The gun comes with a 30 round magazine, a 100 round speed loader full metal bipod
It comes with three iron wrenches for assembling the gun,
adjusting the hop up and making the scope attach to the rail and a bipod.
Let's start with the gun. It's about 500 FPS 0.2s, but I use 0.28g because
of the better accuracy of the gun. It's a pretty beast of a gun, it's
pretty heavy. Good sign for a rifle though. So, I'll start with the back.

There is a rubber butt stock which is very nice to
your shoulder. There are two mounts, one on the left and one on the right,
so it's ambidextrous. it has a cheek pad and that is adjusted by
two screw holes. There is a nice thumb
grip over to put your hand in thats very nice.
The trigger is a two-stage trigger, meaning there's sort of
a mini trigger within the trigger. You have to pull the trigger within the
trigger back, then the whole thing to make it fire.
The bolt is all metal, and it's very smooth to cock. It's just a simple matter of
pulling it back, forward and firing it. So the safety is located behind the
bolt. Put that up. there's a safety push it Forward to fire and back is to put it on safe.
While you're on safe, you can still
pull the bolt back but you can't pull the trigger forward.
The it does not come with a scope but bbguns4less sell them here. (please note this gun does not have a 9mm rail its a bigger size)
The scope would mount onto the rail system.
You can mount any other optic or laser of your choice that fits a rail.
The magazine well and pop up is located on the underside of the gun.
Get the magazine and you just pop it in. Make sure you hear a click before you
fire or else you can double feed. The hop up is located in front of the
magazine. You can't really see it, but it's there. You just take
an iron wrench and you turn it counter-clockwise to add hop and counter-
clockwise to reduce. i think but don't quote me on that.
The bolt is very lubed up. it's very greasy But it's good.
The barrel is extremely long, as you can see in the photos.
You can see the barrel goes all the way from the front of the rail all the
way along to the end. I forgot to tell you that the barrel has a muzzle cap
which you can just unscrew and inside it are threads to mount a
silencer, if you feel the need to mount one.
That's been my review of the Warrior L96 Airsoft rifle. A Great gun."
If you want the scope, bipod or both for this bb gun. You have to select it in the options above when ordering, as they are optional extras and don't come as standard in the package with the bb gun.
Product Videos
WELL MB01 CUSTOM AIRSOFT SNIPER RIFLE
05:12
To buy the WELL MB01 CUSTOM AIRSOFT SNIPER RIFLE from the video or just see the price and see our other great guns Goto https://bbguns4less.co.uk/products/well-mb01-warrior-mk3-l96-replica-sniper-rifle-in-green.html If you want to see our full range of bb guns and airsoft products we sell goto https://bbguns4less.co.uk If you like our videos and want to see more airsoft gun and bb guns videos and reviews thumbs up please and subscribe to our you tube channel here http://goo.gl/vpwTBC You can also keep upto date with with us on our social media channels by clicking on one of the links below. Facebook - http://goo.gl/9LyrT3 Twitter - http://goo.gl/ubCbir Instergram - http://goo.gl/cPSiq9 Google plus - http://goo.gl/sNClJS Thanks for watching and if you want us to do a video of a product we have not done yet please leave a comment with a link to the gun on our site.....
WELL MB01 CUST...

To buy the WELL MB01 CUSTOM AIRSOFT SNIPER RIFLE from the vide...
Product Videos
Find Similar Products by Category
Customers also viewed