WE 3.8MP Little Bird GBB Pistol In Blue
WE 3.8MP Little Bird GBB Pistol In Blue
Product Description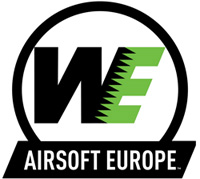 The replica is made of plastic and an alloy of zinc and aluminum. The metal made elements are the slide and the magazine, the rest of the elements are made of plastic. The replica is powered by green-gas what allows to gain the muzzle velocity of about 300 FPS. Both, the front and the rear iron aiming sights are marked with photo luminescent dots what allows for an easier aiming in low light conditions. At the same time, the iron aiming sights preserve their full functionality in standard conditions.
All in all this is a very nice pistol and even though it does not have the hardest kick this would be great for someone learning the ropes with a Gas blow back and even just general target shooting.
The replica uses a Blow-Back system which makes that the replica's operation is similar to the operation of the original firearm. The slide remains in the backwards position after shooting the last round of ammunition. The twin stack magazine holds 21 BB pellets.
Made of: metal and plastic

Weight: 705 g

Color: black

Muzzle velocity: ~300 FPS

Magazine capacity: 21 BB pellets

Length: 165 mm

Powered by: Green Gas

Manufacturer: WE

Includes Pick replacement grips
Find Similar Products by Category
Customers also viewed