Well D90H Fully automatic BB gun P90 replica In blue
Well D90H Fully automatic BB gun P90 replica In blue
Product Description

This Well D-90H is a FULL SIZE REPLICA OF The famous FN P90 manufactured by FN Herstal in Belgium
It was designed in 1990 as a compact but powerful firearm for vehicle crews, operators of crew-served weapons, support personnel, special forces and counter-terrorist groups. its now used by over 200 law enforcement agenciesincluding the U.S. Secret Service.
It is a high powerd full automatic electric bb gun The P90 is fully ambidextrous—it can be operated by right or left-handed shooters with equal ease
its a 6mm caliber bbgun and its a unconventional weapon with a striking futuristic appearance you may have seen it on tv's stargate and other films etc.

This BB gun is a cracker and boasts full automatic fire to a max range of 40mt.
it shots at 290 fps and it has a large 200 round capacity magazine.
it fires 400 rounds per min
it comes with loads of accessories .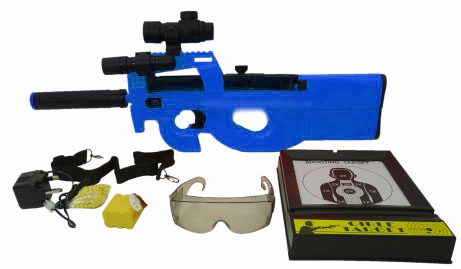 Nicad battery and charger
D-90H Electric Gun in blue
sizes - Length 655mm (with silencer) 470mm (without silencer)
Note:- Gun will be supplied without laser and with glasses

BBgun Details

Shot Power

Shot Accuracy

Magazine Capacity

200

Powered By
Product Videos
WELL D90H AEG RIFLE AIRSOFT BB GUN REVIEW
05:09
To buy the WELL D90H ELECTRIC RIFLE AIRSOFT BB GUN from the video or just see the price and see our other great guns Goto https://bbguns4less.co.uk/products/well-d90h-fully-automatic-bb-gun-p90-replica.html If you want to see our full range of bb guns and airsoft products we sell goto https://bbguns4less.co.uk If you like our videos and want to see more airsoft gun and bb guns videos and reviews thumbs up please and subscribe to our you tube channel here http://goo.gl/vpwTBC You can also keep upto date with with us on our social media channels by clicking on one of the links below. Facebook - http://goo.gl/9LyrT3 Twitter - http://goo.gl/ubCbir Instergram - http://goo.gl/cPSiq9 Google plus - http://goo.gl/sNClJS Thanks for watching and if you want us to do a video of a product we have not done yet please leave a comment with a link to the gun on our site.....
WELL D90H AEG ...

To buy the WELL D90H ELECTRIC RIFLE AIRSOFT BB GUN from the vi...
Product Videos
Product Reviews
Write Review
D90H P90S Honest Review

Posted by Spaz on 1st Jun 2013

From a pro air-softer, this gun is a great starter weapon. While not able to stand up to the rigors of an actual skirmish, this P90 can still impress. It shoots at an average 250-290 FPS, and has a moderate range. The semi/full auto is a bit difficult to work out, just pull the trigger in a bit to get semi auto fire, and all the way for full auto. Pros: cheap, better-than-average garden skirmish gun, and includes alot of accessories. Cons: Gearbox is plastic, and gears get worn down (that's what killed mine), torch and sight TAC rail connectors are prone to breakage, and the mag is gravity fed, meaning that you must shake the gun every few shots to get a full auto stream. Overall, a good beginner gun, great for garden battles or just fooling around.

Sweet gun

Posted by Airsoftlegend on 24th Jan 2013

Sweet gun awesome accuracy great and the many bb's it hold is unreal the only problem is the mag it is a gravity mag and sometimes it doesn't shoot but I recommend it to some pro's and mostly beginners so the over all is a 5 star gun for me
Find Similar Products by Category