SRC GG 104B Beretta 92 Replica Gas powered Airsoft pistol
SRC GG 104B Beretta 92 Replica Gas powered Airsoft pistol
SRC GG 104B Beretta 92 Replica Gas powered Airsoft pistol
Product Description

This is an excellent little pistol in the style of a full scale Beretta 92 pistol that comes from the src-stti factory. (It says y&p on the box but it is src)
Made of strong ABS plastic in perl blue with a 23 round magazine.
surprisingly accurate with good range it can fire over 300 fps with the right gas.
comes with a small pack of pellets.
size - 225 mm long
mag cap - 23 rounds
hop up - yes
fps 295
single shot
but it does not come with any bb gun airsoft gas but you can buy that on the site
This gun uses the big aerosol type cans and not the little gas capsules we like kick ass brand the best.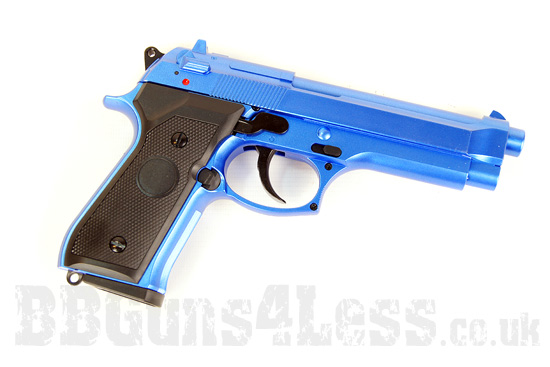 As a non-blow back Green gas gun goes this Beretta 92 is a Airsoft gun that no skirmisher should be without, The insides are metal and the outside is a strong durable ABS plastic this gun can take a punishment able to deal with almost everything the avarage skirmisher can give, dropping it in mud, puddles and even the solid ground this gun just keeps fireing. For the price of this Gas gun you are in for a treat, during our tests using Abby Predetor Gas this gun consistantly fired at 320fps to 331fps and considering thats with over 100 rounds and four mags this is a very reliable back-up, or if you feel the need with its light trigger pull its great for duel weilding (our Resident skirmisher knows this from experiance).
The Magazine is metal and can hold enough gas for two or three ammo refills before needing to be re-gassed. Being a non-blow back this gun is restricted to single fire only but can keep up with every trigger pull no matter how fast your trigger fingers are. Has an accuracy to hit a 17cm target at 20 meters and a human sized target at 30 meters.
This gun features a working safty which can be used with or without pulling the trigger down and it wont release until you put the safty onto fire. If you take one of these skirmishing people will learn that this is a weapon you dont want to be on the reciving end of.
The gun its self is weighted and with a nice texture on the grip you can really feel it, there no loss of grip while aiming and fireing allowing you to put round after round into the target.
Product Videos
Y&P GG104 M92F GAS PISTOL BB GUN REVIEW
01:34
To buy the Y&P M92F GAS PISTOL BB GUN from the video or just see the price and see our other great guns Goto https://bbguns4less.co.uk/products/y-p-gg-104b-beretta-92-replica-gas-powered-airsoft-pistol.html If you want to see our full range of bb guns and airsoft products we sell goto https://bbguns4less.co.uk If you like our videos and want to see more airsoft gun and bb guns videos and reviews thumbs up please and subscribe to our you tube channel here http://goo.gl/vpwTBC You can also keep upto date with with us on our social media channels by clicking on one of the links below. Facebook - http://goo.gl/9LyrT3 Twitter - http://goo.gl/ubCbir Instergram - http://goo.gl/cPSiq9 Google plus - http://goo.gl/sNClJS Thanks for watching and if you want us to do a video of a product we have not done yet please leave a comment with a link to the gun on our site.....
Y&P GG104 M92F...

To buy the Y&P M92F GAS PISTOL BB GUN from the video or just s...
Product Videos
Product Reviews
Write Review
Beretta 92 full scale model

Posted by Terry on 30th Apr 2018

Excellent model, easy load and gas refill. Rapid fire, would have liked the slide to slide like the real thing, but all in all, very pleased. Am already thinking of purchasing another model.

Great fun

Posted by KV on 8th Jan 2018

This gun feels good in the hand, is well balanced and fires consistently. Wish I'd bought one years ago.

Great fun

Posted by KV on 8th Jan 2018

This gun feels good in the hand, is well balanced and fires consistently. Wish I'd bought one years ago.

well made and accurate

Posted by Brian Barnes on 18th Apr 2017

feels like the correct weight, accurate and appears very well made. Just as advertised.

Brilliant Pistols

Posted by Mark Currier on 18th Oct 2016

I ordered two of these and have been really impresses, the weight feels just about perfect, the fire rate is as fast as you can pull the trigger :) the blue they are in looks really nice. These are a really good buy for anyone looking to start out or even if you shoot/play regularly. The only part i would change would be to have the slide actually move like the real gun. But for the price, I certainly aint complaining :)

Top Class Gun for starters

Posted by Tony F on 20th Sep 2016

For the money you pay for this pistol its a steal it outscores the previous versions in accuracy and power it is also heavier which gives it a more realistic feel a must buy for a first timer

Great choice

Posted by Donna Biggs on 10th Sep 2016

When I purchased this gun I went with price. I wasn't disappointed when I received it. It looks and feels great. Solid unit and accurate. Good buy all round.

Quality pistol!

Posted by Unknown on 3rd Sep 2016

Bought this gun and to be honest wasnt expecting massive quality due to price but its fantastic!
Nice and accurate and blenty of grunt behind it!

BRILLIANT !

Posted by Alex on 7th Aug 2016

I bought this gun with worry, I thought that it would be tatty etc because of past experiences but it's amazing. Quality is amazing and the weight is superb. I'm glad I bought it! Worth every penny!

WOW! Fantastic Pistol - Highly recommended!!

Posted by Mat on 20th Jun 2013

What can I say, this pistol is absolutely fantastic!

It shoots straight and true every time. Feels very good in the hand and is very well weighted. The blue colour has a metallic look to it and does look very nice indeed (Although my gun is black on the lower half and only blue on the top - unlike the picture, which is blue all over apart from the grip)

Being a gas pistol you can fire in semi-auto mode and can empty a mag in a matter of seconds! Great fun!

This is a non-blowback pistol, which in my mind is a positive, as no gas is "wasted" with operating a blowback mechanism. However, some people may see this as "less authentic".

This is a beast of a sidearm, with adjustable hopup (which was set perfectly out of the box for .20g bb's). The power of this gun is immense - when you get hit by a bb from this, it is going to sting!

The build quality is fantastic and it feels very sturdy, with no loose parts. This gun feels like it will be able to cope with quite a bit of abuse.

The gas is held in the removable mag along with the bb's. I have looked for a spare mag, but haven't found any in the UK (I did see one on a US store though).

If you are looking for a very good gas pistol, I can fully recommend you give this one a try - even if you are looking at pistols at £100+, try this one out, you might just be surprised at just how good it really is!

Best gun for this price!

Posted by Gil on 27th Apr 2013

This gun is one of the best guns I've ever had, if you are looking for a budget gas gun, this is the right one for you!

Love It

Posted by Tom on 12th Apr 2013

Really good and powerful! even better with metal 6mm bbs

at the price it a good buy!
Find Similar Products by Category