Knights Armament Co Knighthawk 1911 gas blowback Pistol
Product Description
Knights Armament Co Knighthawk Nighthawk Gas Blowback Pistol from WE
The KnightHawk is a one-of-a-kind custom pistol this limited edition WE-Tech pistols is great for performance look and feel.
it is among the top pistols of the Airsoft industry.
The Knighthawk is full metal, heavy weight and constructed with reliability and durability in mind.
It all types of high-pressure Airsoft gases (kick ass ect)
The front and rear sights are true to the real steel version.
This pistol is fully upgradable.
Features:
3G MEGAFLOW gas blow back internals
Custom "golf ball" textured grips
Anodised Orange Slide
Low profile GI thumb safety
Long beaver tail with grip index
Professional shooter's rear and front sight
Full Aluminium Light weight slide for maximum performance
Full Metal construction with forward and rear serrations
Chequered front and back strap
Light pull 3-hole trigger
Built in lanyard hook
Metal reinforced outer barrel, chamber, recoil spring guide rod, on frame safety, slide top, hammer and trigger
Newest blowback unit / bucking for most updated technology and design
Textured magazine release and thumb safety with beaver tail
Built in Military style low profile rear and front sight
Built in mainspring housing lanyard loop
Realist Blowback Actions
Metal reinforced outer barrel, chamber, recoil spring guide rod, on frame safety, slide stop, hammer and trigger
15 round mag
size
220mm x 135mm
328 fps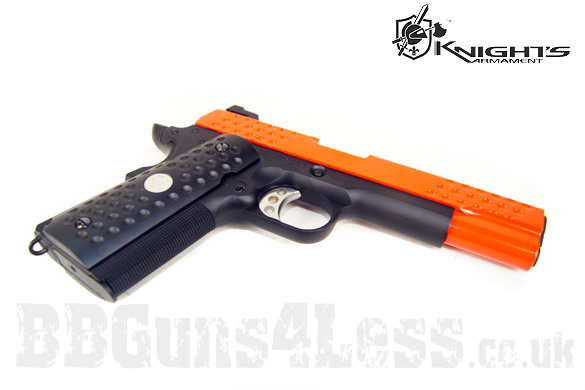 Find Similar Products by Category
Customers also viewed