HFC HA2110 l85 SA80 carbine in orange
HFC HA2110 l85 SA80 carbine in orange
HFC HA2110 l85 SA80 carbine in orange
Product Description
HFC HA-2110 L85 A1 AFV CARBINE (2-Tone)
This is a Two-Tone orange and black model of the British army L85, on the box this claims to be the L85 Carbine, but is in fact the AFV variant (the version used by tank and helicopter crewmen) it is a VERY high-powered gun for it's size and is absolutely phenomenally accurate, and also still very easy to maneuver around a battle, making it ideal for supporting roles in a team, or even as a backup weapon for a sniper, the detail on this is phenomenal - HFC have gone as far as to add a functional dust cover behind the bolt that can be opened and closed, stamped a serial number into the receiver, and have even stuck on a union-jack flag at the rear of the weapon.

The gun comes ready for battle with a brilliant replica SUSAT scope (non magnified) that works great for taking out enemies at a medium to even a long range, where the accuracy may not be good enough to hit dead on center of a target 100% of the time, it will most certainly be able to hit a human sized target at range almost all of the time, making it a great gun to use in a battle, this version also comes with a bottom rail, included standard with the gun is a plastic vertical-grip that fits perfectly onto this rail, but this can always be swapped for anything you need in any situation - e.g. you could attach a bipod when using the gun as a marksman rifle, or even a different grip for different situations.
Included with the weapon there is also a VERY good quality torch with a metal weaver RIS mount, this torch will fit either on the bottom rail, or onto the rail on the LEFT side of the gun, it will attach onto the other side, but may be loose, this is not because the gun is broken or damaged, it it just the way the rails are designed.
The pullback action for this gun is amazing, it is VERY easy to pull back (one of the easiest pullback actions available on an expensive spring rifle) and gives a very satisfying metallic "clunk" noise when the gun is cocked - not only is the pleasing to hear, it lets you know when you have pulled the bolt back far enough and that it is ready to be released!
The main body of the weapon is ABS plastic, but like most high end plastic guns, it is a very strong plastic that is unlikely to break even under heavy use, the handle, front hand guard, and butt of the rifle are also plastic but are injection molded, giving a very nice smooth finish.
This gun does come with a massive range metal parts however - the trigger guard and trigger itself are metal, as is the barrel - inner and outer, and also the secondary iron sights atop the SUSAT scope are made of metal. The magazine release is metal along with the push safety and rear sling mount.
LOADING/SHOOTING:
the magazine is released by pressing on the release catch located on the right hand side of the weapon, just in-front of the mock fire-select, when this is pushed down the magazine will release and you will be able to remove it and fill it with BB's.
There are two ways to lead a HFC magazine, the first and easiest way is to use a speed-loader, that is available for purchase from this website.
The alternate way is to first remove the "pusher" from the magazine - this will be what appears to be a black circle at the top of the mag, pulling up on this will release the pusher, insert the pusher into the area where the BB's would go, and push the securing clip at the bottom, you can then insert BB's as normal into the magazine and insert it into the gun, taking care not to accidentally release it before its ready!
cocking the gun is easy, simply pull back on the charging handle until you hear the "clunk" noise, once cocked, simply look through the sights and pull the trigger!
- Sturdy 40 round magazine
- Full metal barrel, including flash hider
- Solid metal "clunk" sound when cocked
- 270/280 FPS w/0.20 BB's
- Injection Molded Solid Stock And Handle ( Secure, tough and immaculately smooth finish )
- Near-perfect replica of the real thing
- compact and easily maneuverable, but still heavy enough to feel real!
RELIABILITY: 5/5



The HFC HA-2110 is a superb replica of the L85 AFV, it has all the correct features of the real weapon, looks absolutely FANTASTIC and is one of the nicest feeling guns that is available today. it is reliable, sturdy and extremely powerful - it is perfect for anyone who uses a sniper and needs a backup weapon, or for someone who is looking for a brilliant primary weapon that will last them a long, long time.
THIS RIFLE IS NOT COMPATIBLE WITH OTHER SIGHTS, THE SUSAT IS PART OF THE FAKE RAIL AND WHEN REMOVED, REMOVES THE RAIL TOO!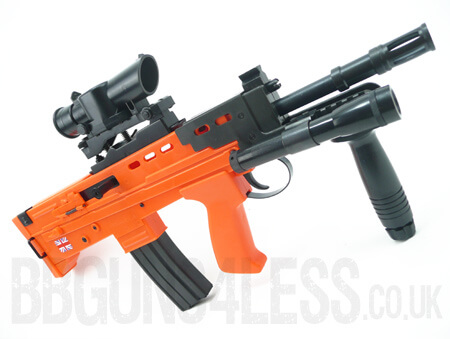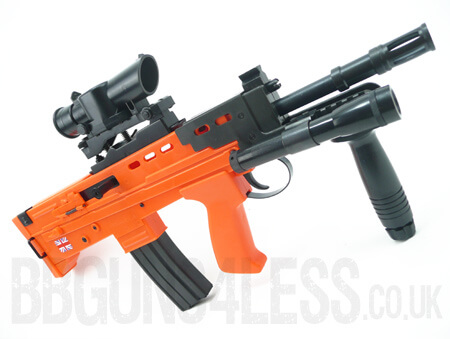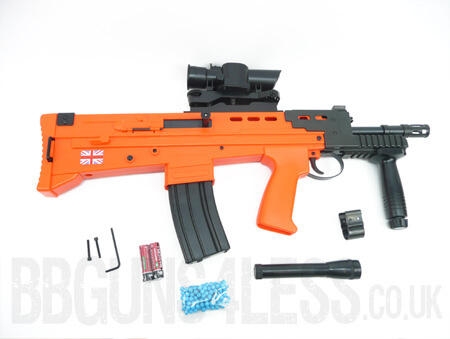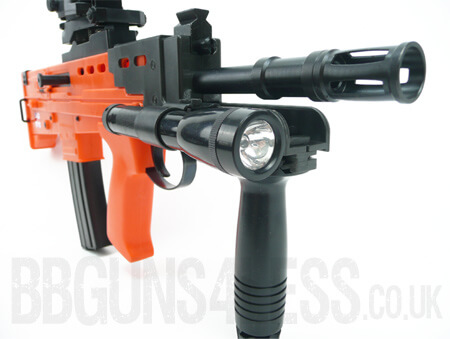 We also have this in blue green and orange (old type) or New type we also sell a cheaper (non HFC) version of the L85A2 that not so strong of powerful. we have it in blue or orange.
Also check out the L86 Carbine HFC l85 Carbine (The shorter versions)
Product Videos
HFC HA2110 l85 SA80 carbine BB gun in orange
00:51
This is a full size 1:1 realistic replica of the SA80. The 211B Carbine has an incredible 360+ FPS! The metal cocking sound is nice and solid! This gun is a single action with plastic construction and some metal parts finished in orange and black. https://bbguns4less.co.uk/products/HFC-HA2110-l85-SA80-carbine-BB-gun-in-orange.html
HFC HA2110 l85...

This is a full size 1:1 realistic replica of the SA80. The 211...
Product Videos
Product Reviews
Write Review
Excellent bit of kit well impressed

Posted by Brian on 17th Aug 2014

Nice piece for a first timer my lad is very happy with the item, delivery was spot on, will be back soon.

awsome!!

Posted by Unknown on 3rd Feb 2013

great gun, has good power and the delivery was fast. would be better if it came with other sights tho.

Brill

Posted by Unknown on 15th Apr 2012

ABsolutely amazing gun, the bullpup design allows you to have an amzingly short barrel and not compromise accuracy its very light for an assualt sniper rifle and very robust just because its plasic doesnt mean it will break and the fact you can buy more mags for it just makes it even better so now i can fire a hell of a lot before running out

great gun

Posted by Unknown on 31st Mar 2012

got it this morning and thought i should write a review i gave it four stars purely because the packaging wasnt great now the gun great had a war with my friend and it is very accurate at long range and short must buy i recommend it

very good

Posted by Unknown on 29th Mar 2012

im a proffesional bb gun gamer and i would say its a brilliant first time gun

AMAZING!!!!!!!!!!!!!!!!!!!!!!!

Posted by Unknown on 27th Mar 2012

so good it is the best gun ever it is pro good first time gun

sa80

Posted by sa80 on 5th Mar 2012

It's amazing that's all I've got to say because its soooo amazing that I don't need to say anything about it !!!!!!
Find Similar Products by Category
Customers also viewed