Cyma CM121 Desert Eagle Electric Airsoft Pistol AEP
Cyma CM121 Desert Eagle Electric Airsoft Pistol AEP
Cyma CM121 Desert Eagle Electric Airsoft Pistol AEP
Product Description

BBguns4less is proud to introduce the CM.121 pistol.
This is a 1/1 scale Desert Eagle replica, the lower reciver is made out of rubberised ABS for stability and the top slide is a non blow back, This is an electric BB pistol and is a big gun. you will need long fingers to fully operate this gun. it has both full auto and single shot. if you want somthing to stand out for looks this is the gun for you. its massive and could be very intimadating if you was on the other end.
Overall this is a skirmishable pistol that is a good alternative to a gas pistol being much cheaper to run with a similar performance.
Specifications:
1:1 Scale
220 FPS with 0.20g pellets (bbguns4less tested)
231 FPS With 0.12g (bbguns4less tested)
8 rounds a sec on full auto
Desert Eagle
Electric Pistol
Full Metal Slide
Re-Enforced ABS Body
CM AEP Gearbox
30 Round Magazine
Adjustable Hop-UP
Fires Single and Fully Automatic
In the box:
small pack of pellets 0.20g
Includes Battery (7.2v) ni mh 500mAH
Includes Charger
gun manuel
un jamming / cleening rod
speed loader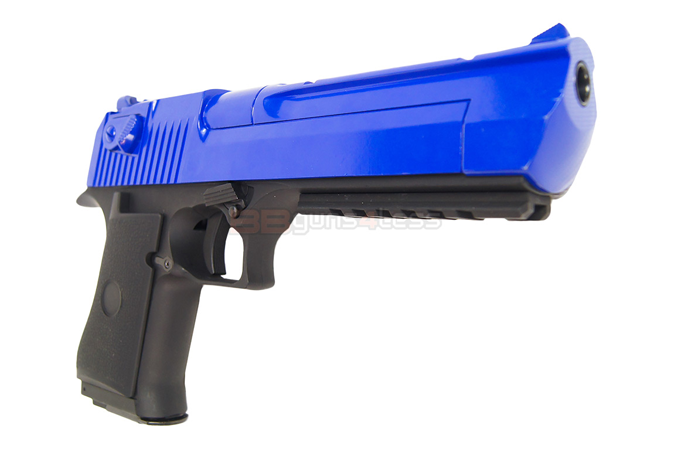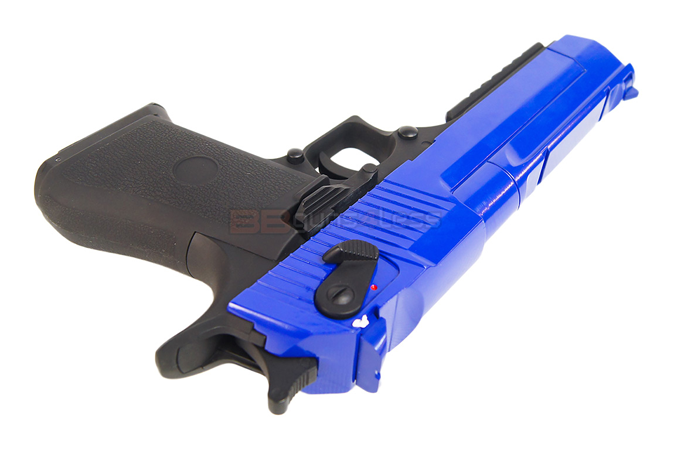 Find Similar Products by Category