Bison 701 Russian SVD Dragunov Bolt Action Airsoft Sniper Rifle
Product Description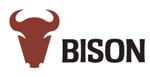 BISON Russian SVD Bolt Action Sniper Rifle
And its is one powerful BB gun.
The Bison 701 is a Dragunov SVD replica. It's fps is 470 with 20g pellets and has a 50m-70m range, the gun is 1/1 scale (1210mm long) and weighs about 3lb.
It's perfect for garden wars and entry level skirmishing because it's very reliable. The hand guard , stock, magazine, upper and lower receiver are made from ABS plastic while the internals, screws, fire selector and barrel are made from metal.
The bolt is a bit hard to pull back as its a very powerful gun .Inside the box you'll find a decent sling, a pack of cheap bb's ( don't use cheap bb's they'll jam the gun) a screwdriver and some screws for the stock, a good quality speed loader, an instruction manual, safety glasses and the rifle. Many people ask if you can put a scope on the answer is yes: on the side there are mounting brackets for a special SVD scope mount with 20mm weaver rails to mount any scope. The gun comes partially assembled so all you have to do is screw the stock on. The gun has a hop up unit which can be adjusted, a detailed receiver with a Kalashnikov styled fire selector and adjustable sights for 10-80 metres. the magazine holds 50 rounds.

The Real Dragunov was designed by Yevgeny Dragunov and built by izhmash. Originally it was meant to be a squad support weapon as assault rifles had medium range and were capable of fully automatic fire but it proved itself to be a brilliant sniper rifle. It's used as a designated marksman rifle and sniper rifle. It's semi auto fire and long range make it a perfect sniper rifle. The Dragunov has seen many wars and conflicts and is still in service today.
This airsoft version of the gun is very good as a designated marksman rifle and excellent as a sniper, it's very reliable and it's never jam's it's powerful enough to penetrate a can or a plastic bottle, the only downside is that the gun has no scope mounts on the gun itself but it's more realistic with the side mount overall a great gun I would recommend to anyone.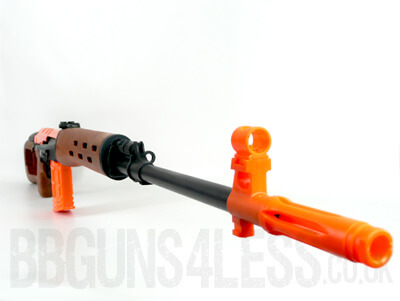 System: Spring, Air cocking

Hop-Up: Adjustable

Package Included: Gun, Magazine, BB loader ,Goggle,Sling

Length: 1210mm (its the longest gun we have)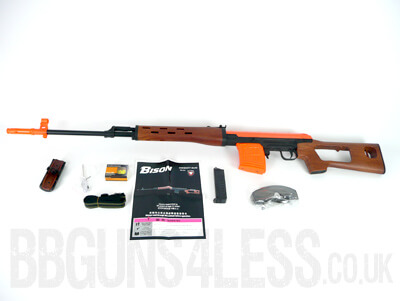 ABS Magazine & Gun Body.

Magazine Inside Metal .


Fit To Use 0.12g 6mm BB For Shooting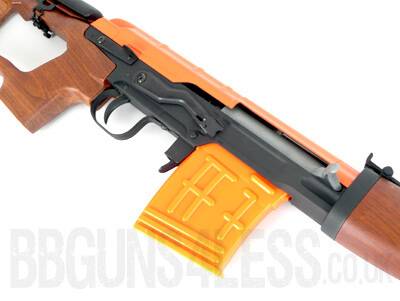 Has also has a leather attachable chin rest
Magazine Capacity : Approx.150rds (say the makers - but bbguns4less users report only 30 rounds we have uet to test it)
Power : 447fps (0.12g 6mm BB) / 360fps (0.2g BB)
please note we only have the new version of this gun now that has more orange on it to comply with ukara rules.
So if you buy this gun it will be it will not be as in the photos here (new version photos coming soon)
Product Videos
Dragunov BB Gun Unboxing Review
07:04
My review of my new BISON 701 Russian SVD Dragunov Bolt Action Airsoft Sniper Rifle from BBGuns4Less.
Dragunov BB Gu...

My review of my new BISON 701 Russian SVD Dragunov Bolt Action...

BISON 701 Russ...

Hi, this Is The Review For The Awesome BISON 701 Russian SVD D...

Bison 701 :: B...

https://bbguns4less.co.uk/products/BISON-701-Russian-SVD-Dragu...

BISON 701 Russ...

Hi, this Is The Accuracy Test For The Awesome BISON 701 Russia...
Product Reviews
Write Review
Showing reviews 1-20 of 44 | Next
Great buy!!!

Posted by Unknown on 9th Jun 2013

Got this gun two years ago and is working just as well as it was when i got it, it packs one hell of a punch and is well worth the money. Good starter sniper.

Help?

Posted by Hi :) on 10th May 2013

Thinking of buying this, but was wondering what size the rail is? Or could someone comment a link to a scope that fits?

Thanks.

LISTEN TO THE PRO AIRSOFTER

Posted by Unknown on 2nd Apr 2013

After reading all the reviews i thought this was a really good buy but i did however completely ignore The ProAirsofter and smilie's review which actually says how this isnt that good.
It is really loud, all plastic, no scope, some plastic internals.
All round yeah this is good if you have little money to spend, but if you are getting started in airsoft then;
1. You shouldn't start as a sniper as you wont be used to the game
2. If you add the price of a good scope and scope rings to this then you could buy a g&g m4 which are amazing guns.
I hope this helps put this gun into perspective.

400fps with .20

Posted by Unknown on 13th Mar 2013

epic

Very good

Posted by Morgan on 11th Feb 2013

brilliant gun with great accuracy

AWESOME~

Posted by VLADIMIR on 2nd Feb 2013

this is my 5th airsoft gun, the dragunov is really good and awesome, it might be light but youll get used to it, my mag loads 20 rounds so its not bad and for the power, accuracy and distance, its awesome! >:D i fired it at an old bedside lamp and it shattered the plastic thingie where it holds the bulb, if you want to buy a scope for it, i recommend to just buy the mount for the dragunov and buy an airrifle scope from ebay (you might need to buy the mounts for the scope too). for the dragunov scope mount, its located on the left side of the gun,above and between the mag and the trigger, also you can buy a bipod for it that would come inhandy aswell. knwing thats this is my fifth bb gun its just awesome, ive got the dragunov for power and distance which fires around 30m, further if its not windy or if the wind is coming from behind you, i have also got the m85 g36, it holds 50 rounds, has the hop-up system and also you can switch between hop-up and normal, the firing rate from the m85 is also amazing, very powerfull goes about 30-35m apparently but i only use it to pester my flatmates (which feels awesome >:D) all im missing is the usa 440 steel tank proof knife (look it up its bloody @//////@ orgasmic~ :3

What BB weight to use.

Posted by Unknown on 10th Dec 2012

I have had this gun for 1 1/2 years and have recently started to use 0.25g BB's and i am achieving ranges between 70-80 meters which is outstanding, 0.12g BB's are only accurate from 10-20 meters (max) anything after that it will swerve off course due to the power of the gun, 0.20g BB's are good to use for ranges between 25-40 meters, I did use 0.23g BB's but the performance of these are probably just slightly better than the 0.20g pellets but not much of a notable difference, the 0.25g BB's however have increase the range by almost double with almost no power loss at all, this sniper rifle is basically the same as the high cost models with cheaper materials but to say they have used different materials the reliability and performance is amazing.

best ever

Posted by Unknown on 22nd Sep 2012

buy the gun,it looks fantastic and shots great also the shipping is good

great gun for a great price

Posted by Unknown on 26th Jul 2012

got this gun a while a ago and so far there hasnt been a single problem. the FPS is about 350 with .2g. only bad thing is no mounting rail for a sight and the magazine doesnt hold 30 rounds, its more like 15. but over all a very good, accurate, powerful gun

Grongroll

Posted by greg on 6th Jul 2012

This gun is smexual

Cheap

Posted by Slayer on 3rd Jun 2012

This gun looks so cheap, I mean for the price it should, but it looks like you boUght it from pubs land, it's way to light as well, if you want a chew push sniper that looks expensive and good get the UHC w700 super 9 pro for £79.99, this website calls it the well W700 but it's actualy made by UHC, (they make brilliant guns)

Plenty of power for your pounds £££

Posted by A VERY happy novice!!! on 5th May 2012

I ordered this on Monday morning and received it Tuesday afternoon. Im new to airsoft, so haven't much to compare it to, but this gun is AMAZING!!
Impressive size good weight and feel to it, the hop up is easy to set up and the iron sights are extremely accurate.The mag holds 29 rounds (trust me, I loaded it 1 by 1 just to check!)and has a nice 'klunk' to it when its installed. The cocking mechanism is easy to pull, and also has a nice sound to it. If your looking for a rifle on a budget, get this!

Looks Cool, But Snipers are Pretty useless in Skirmishes

Posted by BOOMBOOM on 25th Apr 2012

Snipers are never quite as effective as they might seen.

Field reveiw

Posted by Unknown on 7th Apr 2012

Is the spring hard to pull and is there a way to get a scope mount on it that works also would you use this as a sniper rifle.

very durable

Posted by You on 7th Apr 2012

I have had this gun for 10 months now and it is still going strong with not even the slight bit of power loss even after pulling the spring back and firing it thousands of times, every part of this gun is solid.

amazing accuacy

Posted by jak on 26th Feb 2012

Wow what a gun pity no scope but i guarantee u will love it

Get this gun while you can

Posted by Unknown on 27th Dec 2011

This gun is so cool! I have never used any other airsoft sniper rifle but this is a very powerful one. A bad thing is the stock is a bit wobbly but that does not affect me. Vey good value for money. Dont buy any other sniper rifle other than this

Its alright

Posted by ProAirsofter on 5th Nov 2011

Everyone that says this is my first sniper its amazing etc.. does not know anything about quality. This is good for its price but its still shite. The sound it makes is louder than my ak74 and the sound of the spring is irritating. Its pretty accurate and powerful and hurts on bare skin. I would recommend this to people with a tight budget but if your wanting a scope and bipod etc that will set you back like £80-100+ so you may aswell get a better gun. also its all plastic except the barrel

Get this back

Posted by Unknown on 23rd Oct 2011

Please get this back because it's just what my team needs also it would really help if you got a scope mount and scope in stock. And tell us if you can't.

meh

Posted by smilie lol on 26th Aug 2011

who ever says this gun is amazing is easily pleased, its not bad but its not good its average for your money. if u want a good gun for less than that get the taurus 24/7, its more compact and it has more power. if your a beginer get it. but get the a&k one if u want value for your money. over all im not very impressed its just a lump of plastic so i hope that helped you to avoid one of those guns that look to good to be true.
Showing reviews 1-20 of 44 | Next
Find Similar Products by Category